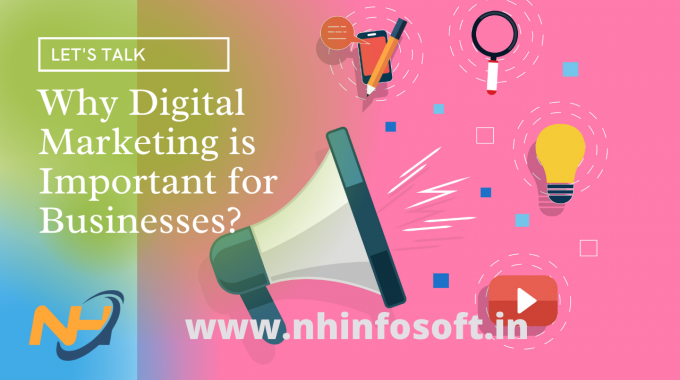 Why Digital Marketing is Important for Businesses?
Why Digital Marketing is Important for your Business
Times have changed, and so has the way businesses approach their customers. Traditional marketing has taken a step back to allow for the introduction of a new face to the industry.
Our desire for change and our efforts to make it a reality have steered many things in a different direction. Although not all traditional marketing strategies have vanished, the current techniques used by marketing professionals are far more popular than what we were previously aware of.
The internet has created a completely new market. Digital marketing has become the norm for a successful business, and if you do not participate in it, your company will not grow in the future.
Businesses can benefit greatly from digital marketing in terms of opportunities and growth. It has the potential to increase exposure and sales. After all, as a business owner, you want to increase your profit.
What is digital marketing? Digital marketing has changed the way we do business and it's here to stay. It's a vital part of doing business in the 21st century and it's important for your business to remain competitive and relevant. It can be hard to keep up with all of the new terms and technology, but it's crucial that you know what you're doing when it comes to digital marketing.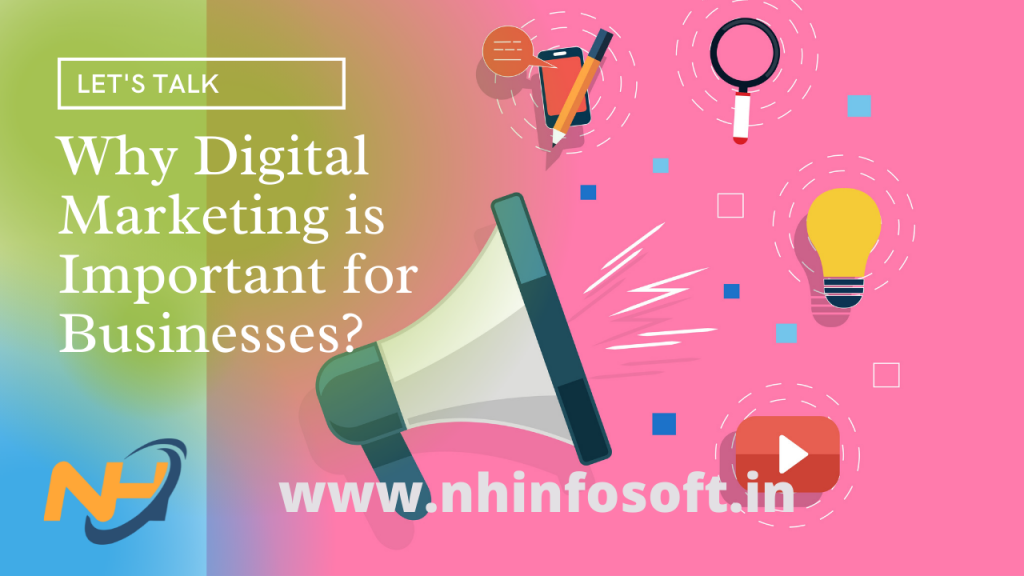 The Importance of Digital Marketing for Businesses
Digital marketing is a broad term that encompasses everything from pay-per-click advertising to search engine optimization, from social media to email, from blog content to video marketing. It can seem overwhelming to try to engage in all these activities at once, especially if you aren't sure where to start. That's why it's important for businesses, large and small, to have a digital marketing strategy in place.
There are lots of ways for small businesses to market themselves digitally. The most popular methods include Social Media Marketing, Search Engine Optimization, Pay-Per-Click Advertising, Blogging, Video Marketing, Email Marketing. You may want to incorporate more than one or two of these into your overall marketing strategy. For example, if you already have a blog set up, you could add a video component or even experiment with live streaming. If
If you want to see improvements in your business or increase sales, you must engage in digital marketing.
Various Types of Digital Marketing
Pay-per-click (PPC):- Pay-per-click (PPC) is a marketing strategy that will drive paid traffic to your company's website. Every time their ad is clicked, the advertiser will pay the publisher.
Social Media Marketing:- Social media platforms include Facebook, Instagram, and others. Businesses use these platforms to promote their brand by creating valuable content. It is also the location where business owners can communicate with their customers.
SEO:- This is a marketing strategy that requires businesses to focus on increasing the ranking of their websites in order to increase traffic. The higher your website ranks on Google's SERP, the more likely it is that your brand will grow.
Content Marketing:- Content marketing is a strategy that allows businesses to provide valuable content to their customers rather than pitching them sales about their product. Content marketing emphasizes the value and the creation of content that will entice customers.
Video Marketing:- Video is the most widely distributed form of media on the internet. It is an effective piece of marketing content that will bring more customers to your company. Video marketing can be used in a variety of ways. You can use it to promote your brand or a product, show behind-the-scenes footage of your company, and share stories and testimonials.
Email Marketing:- Email marketing is one of the oldest forms of digital marketing with a high ROI. It entails sending personalized emails to a specific audience or previous customers.
Here are some of the reasons why digital marketing will help your business succeed.
B2B and B2C companies have a lot to gain from a good digital marketing plan. If you're wondering why digital marketing is important for businesses, here are some of the top reasons:
Increase Sales: The most obvious reason why digital marketing is important for businesses is that it can help boost sales. When you're able to create an effective digital marketing campaign, it enables you to connect with your customers in new ways. This helps you capture their attention, which may lead to more sales.
Building Brand Awareness: If your company has multiple locations or sells products through multiple channels, digital marketing can help you build brand awareness even when people aren't shopping at your brick-and-mortar store or on your website. For example, if someone discovers your business through a blog post or social media campaign, they may be willing to check out your website or contact you about products and services they're interested in.
Connect with Customers: It's easier than ever for businesses to connect with customers. Digital channels give you an opportunity to listen to what customers are saying about your products or services so that you can address their concerns quickly. You can also ask them for their feedback so that you know how they feel about the products and services
Why Digital Marketing is Important for your Business
YOUR CLIENTS ARE ONLINE
In 2019, there are 4.3 billion internet users. Since January 2018, the figure has risen to around 9%. When you look at it, you will realize that there are more people to reach out to when you practice digital marketing.
Your company requires exposure in order to find customers, and the online market is the best place to do so.
People are interested in learning more about your company after hearing about it. They want to check your online presence to see if you exist.
If people can't find anything about you on the internet, you're likely to lose them as a customer.
IMPROVE YOUR BRAND'S REPUTATION
Digital marketing will allow your company to build a relationship with its customers. It enables you to demonstrate to your customers what your company is made of and how you can assist them with their needs.
HAS BETTER REVENUES
Digital marketing, as opposed to traditional marketing, has a higher return on investment and a higher conversion rate, which means it generates more revenue.
What's more, when you use digital marketing to promote your brand, you spend less money.
CONCLUSION
As you can see, digital marketing is critical for today's businesses' survival. If you want your business to grow, you must expose your brand to a larger audience. Digital marketing may appear intimidating at first, but if you take the time to learn about it, you'll see that it has a lot of potentials to help your company grow.